Binance Jex claimed that they had made some optimization on their Bitcoin Perpetual Swap candlestick but it looks like there are still bugs that latest flash crash shown.
According to the latest announcement published on Binance Jex official website (https://jexhelp.zendesk.com/hc/zh-cn/articles/360034006172-关于9月25日凌晨Binance-JEX异常价格的申明) , Binance Jex has claimed that they have hidden the abnormal order data on their Bitcoin Perpetual Swap candlestick to avoid the inconveniences for users checking the K-line and trading accordingly.

Source: Binance Jex official site
At around 3am (Beijing time)on 25 September, Bitcoin's price has retraced rapidly from around $9,800 to $8,150, and this extreme market volatility triggered large amount of forced liquidation in the futures market. Few weeks ago, Binance had announced the acquisition of crypto exchange JEX to boost its crypto derivatives offerings, and the derivatives exchange would be known as Binance JEX. In the incident on 25 September, as shown on the 3rd party platform, the lowest BTC/USD swap price on Binance Jex should be 4105 USD which has over 3000 USD difference with other exchanges like OKEx and Bitmex.
when the exchange doesn't have enough liquidation, it is quite easy to see this kind of price slip, which may cause huge losses for the users due to the malicious forced liquidation. Meanwhile, on Binance Jex official site, you cannot find that price slip on their candlestick any more as shown in the figure below. The comparison indicates clearly that one of the K-line graphs must have been modified.
According to the announcement from Binance Jex, it mentioned that they had decided to hide this price slip temporarily to improve user experiences. So far, there is no other responds from Binance Jex regarding this case.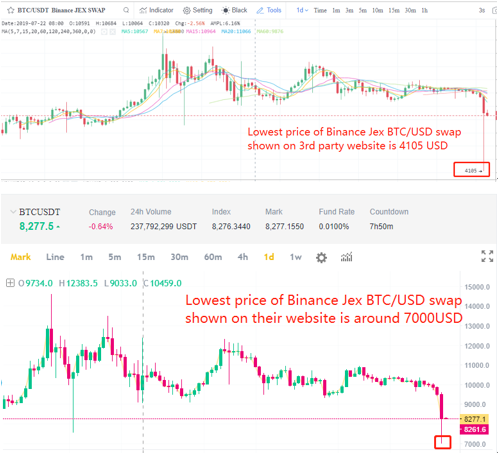 While i still love what Binance is doing and im one of most loyal fans, the launch of new product has some issues and needs to be fixed.