I have been flyign with WizzAir lately and while browsing their magazine i have noticed.. Almost whole page about Bitcoin!

What is the Article About Exactly?
It mentions interesting spots to visint in Prague – the capital of Czech Replublic. One of them is Bitcoin Coffee spot located at Dělnická 475/43, 170 00 Praha 7, Czech Republic.
Below article there is a spot where they explain what is Bitcoin and how to use it. Not bad free advertising for the currency just in start of 2016, don`t you think?
CLICK TO ENLARGE.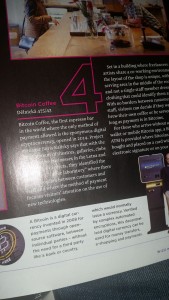 How many people use WizzAir ?
Wizz Air carried 19 million passengers in 2015 and as they claim on their website on January 2016 they had 1,522,901 passengers. This means article which is in their february and march edition can possibly be seen by over 3 millions of people.
Show Your Support. Donate Us!
* BTC 19CJ5vY3kh6MnEUttRxygwDYj7zXZMQUGb
* ETH 0xe2499790bb21c4d8b7bfc989219064d5a1b2758e
* DOGE DJcER4WrKUVyuECZCZ2vBWfK2E9d212jcQ