8bit is one of giveaways channels on telegram and they are running a special. This is a press release that we got from the team.
The next event of 8bit New Year Extravaganza is a special contest for leaders of referral structures.
Those users whose referrals have claimed most DOGEs will take part in our King of the Hill contest.
Each DOGE claimed by your referrals counts as 1 point for this contest. The more DOGE they claim during the contest, the more points you get and the higher becomes your position in global ranking.

Top 100 users with a maximal number of DOGEs claimed by their referrals will place in winners' ranking.
A hundred of winners will receive prizes according to their position in Top-100 ranking. Total prize fund is $2100 and will
be distributed in DOGE according to its exchange rate at the end of the contest.
Want to get into Top-100 ranking?
Just bring more new referrals to our 8bit Telegram bot and Motivate your referrals to keep claiming FREE DOGE from our faucet every day!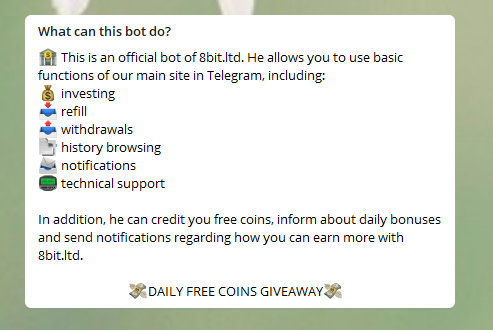 How to become a King of the Hill?
Suppose you have 10 referrals who claim FREE DOGE in our 8bit Telegram faucet. And they claim about 125 DOGE per day which
gives you 125 points. As they keep claiming DOGEs, within 15 days you keep rising to the top of the ranking. After accumulating as
much points as you can, you can place in Top-100 ranking and win a prize.

However, you can speed up your ascension in few ways:
1. first of all, motivate your referrals not to skip any days and claim DOGEs every day
2. motivate them to make deposits, thus they will become Advanced users and
a. will be able to receive significantly more Free DOGEs
b. they themselves can participate in the King of the Hill and bring more their referrals
3. bring new referrals to the 8bit Telegram bot and show them 8bit faucet for claiming FREE DOGE.
The King of the Hill contest will take place from 1 till 15
January. On January 15th, 12:00 (server time) the scoring will be
over and the contest results will be published at the promo page.
Add 8bit @PSEofficialBOT to your telegram, click START BUTTON and start claiming Free DOGE Now to enter the contest.
You can also make the free referal registation link there. The website of the company running this is at https://8bit.ltd/