Scorum is a sports-themed blockchain based on Graphene code known from Bitshares, Steem or EOS.

What is Scorum and How Does it Work ?
Scorum is a platform where you can create content and get rewarded for it by other members who upvote what they like with power depending on their stake (amount of coins in the account). You can simply register on official site Scorum.com and start creating unique content to get followers and others to like it. Yet platform has bigger plans than only being a blogging portal and right now launched first decentralized betting app Betscorum where you can place secure bets with other users.
The blockchain is using 0 fee module so all things you do are free and you lose nothing. For now the bets are also 100% free, no rake or anything. You enter and play.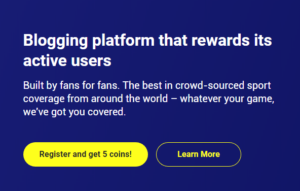 Where to Get SCR Tokens ?
For signing up you get 5 SCR Scorum.com which let you move around blockchain. Now there is two easiest options to get the coins:
– create content on the site like any social network and earn them
– buy from exchanges Hotbit (for Ethereum) or OpenLedger (bitshares based – for anything).
This is not all. You can also run a server to help secure network and if enough people vote for you, you can "mine" coins. Its called being a witness.
Worth to note that in presale coins were for 1 USD each and now are at $0,11. Mostly due to cryptocurrency markets in bear mode as the project had no downfalls or anything.
Is Scorum For Sports Fans Only ?
Blogging for sure is but you can also trade the coins or use semi-on-topic parts of the site like betting, poker or casino. I'm almost positive at some point there will be not just sports betting portals but decentralized casino games based on the platforms blockchain. Just when posting be sure to do long posts with unique content. The site really cares of quality, has fraud checking bots and lots of members look for scammers or fake users. So either just vote/bet/trade or when deciding to post – do it more rarely but with good quality.
For start after joining just read a bit, vote and see how it works. Remember to write down all passwords – there is no recovery if you loose them. You can also follow our founder there as your first person to check.